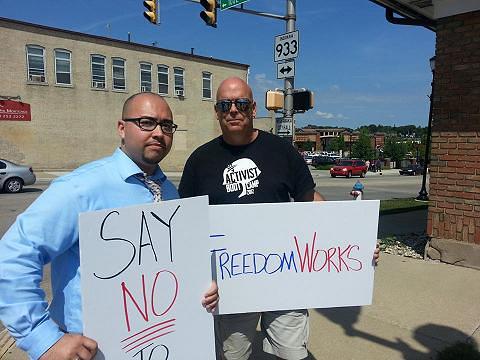 On Thursday, August 15th, 2013, something of great political significance occurred within the state of Indiana.
The Participants
FreedomWorks: This grassroots organization, founded in 1984, is known for training liberty-minded activists across the country and sending them forth as advocates for lower taxes, less government and more freedom.
The Libertarian Party of Indiana: This political party, dedicated to the ideas of freedom and limited government, has been a staple of Indiana politics, consistently running candidates in competition with the other state parties.
Objective
On a national level FreedomWorks has encouraged its supporters to Demand a Town Hall with their congressional representatives while they are home on August recess.
Sequence of Events
Noting that Indiana's representative for the 2nd District Jackie Walorski had not yet scheduled any town hall functions during her August recess, FreedomWorks began to reach out to grassroots supporters across the district. A plan was set in place to meet in front of Representative Walorski's Mishawaka office on August 15th from 12pm-1pm. There supporters voice their concerns and demand an audience with their representative.
The Libertarian Party of Indiana, in support of FreedomWorks' plan of action, then issued a press release stating that they would stand with FreedomWorks during this event.
On August 14th The Elkhart Truth published the following article regarding the event: http://www.elkharttruth.com/article/20130814/NEWS01/708149914
Update: Jackie Walorski's office announces one town hall to take place in Rochester, Indiana – the county seat of FultonCounty. For the record, Rochester falls just short of 50 miles from Mishawaka, Indiana – the city where protesters were to gather in request of an audience with Ms. Walorski.

Note: Why issue the supply so far from the demand?

The Event: On August 15th at noon, several supporters – both related to FreedomWorks and the Libertarian Party of Indiana came together during the work day as planned and spent their lunch hours at Jackie's Mishawaka office. Supporters held signs with slogans such as "August Recess is Not Play Time," "Say No to John Boehner," "Defund Obamacare," and "Follow the Constitution." People driving by the event honked their horns in support of the protestors and screamed from their car windows shouting things like, "Thank you!" and "We're with you!"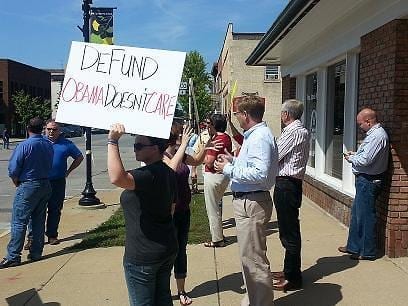 After the Event: Joe Ruiz, Managing Editor at We Are Libertarians, Co-Host of The Shill Report, and 2012 congressional candidate for the Libertarian Party of Indiana, entered Ms. Walorski's office and asked her employee if any additional town halls had been scheduled. Uncertain, the woman referred Joe to Ms. Walorski's Scheduler in Washington D.C. Joe promptly called and after expressing his interest in further town halls, Ms. Walorski's scheduler put him through to Walorski's Chief of Staff. He stated that no further town halls (aside from the already scheduled town hall in Rochester) would take place during August recess.
The Significance
This is the first time that a coalition such as that of FreedomWorks and the Libertarian Party of Indiana has been formed, and it should send a clear message to establishment operations and those who conduct business as usual in Washington. Representative government is an idea that only works if representatives make themselves available to their constituents, hear their concerns and make them a priority when voting (so long as those concerns do not act outside of the Constitution of the United States).
This event and this pairing of liberty-minded organizations shows that the time when a push for success in terms of limited government action by the men and women of the United States government is nearing an end.
The more we learn about the lies that our government tells us, the more we're divested of our personal privacy, the harder it gets for us to maintain financial security due to higher taxes and the abhorrent health care overhaul taking place in our nation, and the less access we have to our representatives (a group who is supposed to be dedicated to its constituents), the more we'll form these kinds of alliances – intolerant of the corruption which has engulfed our nation; perched in anticipation for the moment when we can restore it.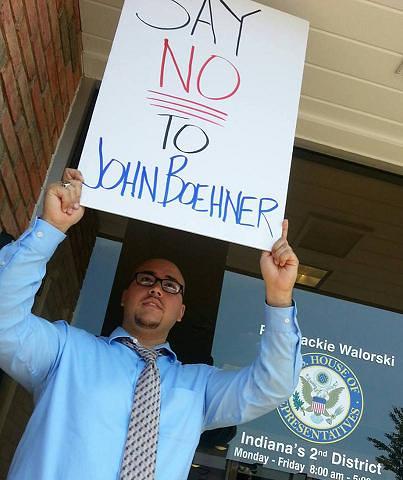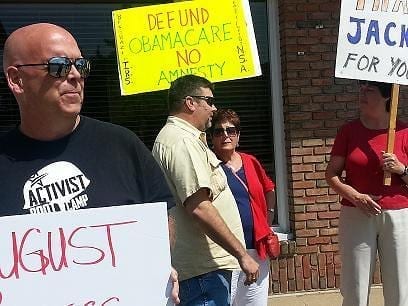 List of August Events for Jackie Walorski (According to the Stand With Jackie Facebook Page):
August 10: "Walk with Jackie (Middlebury)"
August 13: "Parade – Knox"
August 21: "Townhall – Rochester"
September 2: "Walk with Jackie (Blueberry Fest)"
September 7: "Parade – Roann"
Where are the other town halls? What should take priority? Do your representatives have them scheduled?